Feb. 15th, 2018
Cover Reveal – In Too Deep – Dive Team Investigations Book 2
I'm taking a five-minute break from the Beneath the Surface promotion (Release Date: March 6, 2018) to reveal the cover of Book 2 in the Dive Team Investigations series, In Too Deep!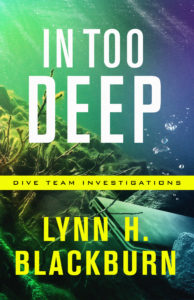 More about In Too Deep . . .
When the dive team is called in to recover a body from a submerged car, they aren't prepared to find an encrypted laptop—or an unsettling connection between investigator Adam Campbell and the dead accountant.

Adam turns to his friend Dr. Sabrina Fleming—a professor at the local university with unparalleled computer security and forensics skills—to recover the files from the laptop. But the deeper they dig, the deadlier the investigation becomes with some people willing to silence anyone who threatens to reveal their secrets. When evidence leads them to a human trafficking ring and implicates members of Adam's own family, he and Sabrina will have to risk everything to solve the case.

The truth could set hundreds free—but could it also destroy the Campbell family legacy?
In Too Deep releases November 6, 2018 and is already available for pre-order!
So . . . what do you think about the cover and the story? I'd love to hear your reactions!
Grace and peace,