May. 23rd, 2013
Book Review :: Desperate – Hope for the Mom Who Needs to Breathe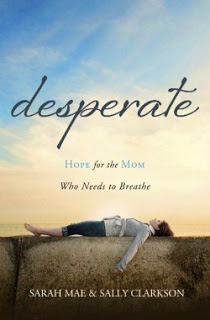 Best Book on Motherhood I've Read. Maybe Ever.
Sometimes I pick up a book because the title sounds good. Sometimes because someone I respect has endorsed it. Sometimes because people I know have read it and recommended it.
Sometimes all three.
The title Desperate – Hope for the Mom Who Needs to Breathe caught my attention.
Hope? For a Mom? Who needs to Breathe? Yep. That's me.
Then there's the endorsement. Yep. Ann Voskamp wrote a beautiful forward to Desperate and highly recommended it.
Then I started picking up comments about it on Facebook, Twitter, and in the blogosphere from people who I trust.
So when my smiling Amazon order appeared, I started reading immediately.
The book is co-written by Sarah Mae (the "young" mom) and Sally Clarkson (the "experienced" mom), which is one of the things that drew me to the book. Each chapter starts with Sarah Mae's often painfully honest thoughts on some aspect of motherhood—exhaustion, mundane chores, training strong willed children—and is followed by Sally's advice and encouragement.
What I liked:: The honesty. This is not a sugar-coated view of motherhood. This is real, in the trenches, "I'm not sure if I can do this today" reality and it resonated with me on so many levels.
What I loved:: I love, love, love the way these ladies elevate and honor motherhood. Even on the hard days. Especially on the hard days. These ladies express over and over again how important the role of "mom" is and how critical it is that we lean into Jesus, fall into grace, and rely on our Heavenly Father's strength to get us through the long days and even longer nights.
What's unique:: Each chapter ends with a QR code you can scan with your smart phone (and the web address if you don't have a smart phone). You'll be able to watch a video with Sarah Mae and Sally Clarkson discussing each chapter of the book.
I love being a mom. But motherhood is far, far harder than I ever anticipated it would be. I've been in the toddler trenches for 10 years and I am often exhausted. Often desperate to catch my breath and find the strength to keep going.
Desperate-Hope for the Mom That Needs to Breathe was exactly what I needed.
I highly recommend it.