Feb. 28th, 2018
Christian Fiction Scavenger Hunt Stop #26
WELCOME to the Christian Fiction Scavenger Hunt!
If you've just discovered the hunt, be sure to start at Stop #1, and collect the clues through all 30 stops, in order, so you can enter to win one of our top 5 grand prizes!
The hunt BEGINS on 3/1 at noon MST with Stop #1 at LisaTawnBergren.com.
Hunt through our loop using Chrome or Firefox as your browser (not Explorer).
There is NO RUSH to complete the hunt – you have all weekend (until Sunday, 3/4 at midnight MST)! So take your time, reading the unique posts along the way. Our hope is that you discover new authors/new books.
Submit your entry for the grand prizes by collecting the CLUE on each author's scavenger hunt post and submitting your answer in the Rafflecopter form at Stop #30. Many authors are offering additional prizes along the way!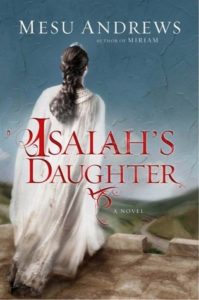 I am delighted to be hosting the fabulous Mesu Andrews. She was exceptionally kind to me when we met last year at the Blue Ridge Mountains Christian Writers Conference and I can't wait for you to get to know her and her beautiful writing!
Here's a brief summary of her latest release, Isaiah's Daughter . . .
Ishma comes to the prophet Isaiah's home as a five-year-old orphan, devastated after watching her family destroyed and living as a captive. With tenderness and care, her lively spirit is revived, and the prophet and his wife adopt Ishma, giving her a new name—Zibah, delight of the Lord. As the years pass, Zibah wins Prince Hezekiah's favor, a boy determined to rebuild the kingdom his father has nearly destroyed. But loving this man awakens Zibah's painful past and calls into question the very foundation of her father's prophecies. Can she learn to rely on only Yahweh, who gives life, calms fear, and conquers nations?
Holy Pigeons!
by Mesu Andrews
I love watching a mama bird with babies in her nest. Birds, in general, are beautiful creatures—at a distance. Up close, they creep me out a little, but have you ever noticed the gorgeous, iridescent colors on a pigeon's feathers? Did you know pigeons and doves are kissin' cousins?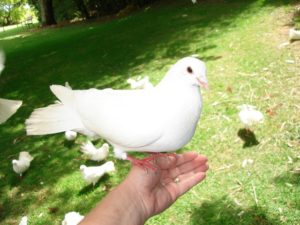 During the third painful re-write of Isaiah's Daughter, my editor suggested I give Zibah, the heroine, a "hobby." What in the world does a six-year-old servant do for fun in 600 B.C. Jerusalem?
I had just read Alice Hoffman's, The Dovekeepers, and was fascinated by the myriad uses of doves in ancient Israel. What if my traumatized little heroine found peace and solace in the ancient practice of dove-keeping? What if she and her little birds calmed each other?
As the story evolved, many opportunities for spiritual applications arose. This was one of my favorites from the lips of Isaiah's wife, Aya:
She looked at me with glistening eyes. "Do you know why Master Isaiah calls me a prophetess?" I shook my head but was eager to hear. "It's not because I proclaimed Yahweh's words to kings or predicted future events that came to pass. Isaiah calls me prophetess because I speak with Yahweh as a friend—and He answers."
My mind began to spin with questions, but the most important came out first. "How do you hear Yahweh's voice?"
"How do you call a palm dove to light on your arm?"
Obedient but confused, I answered her question. "I become peaceful and then sing the dove's song." How could my call to the dove answer my interest in how Mistress heard Yahweh?
Her eyes sparkled as she helped me work it out. "If I became peaceful and tried to make dove noises, would your dove light on my arm?"
"Perhaps not." I thought more about what made my dove come to me. "It's the trust and familiarity between me and my dove that creates the bond. Only after the second year would the dove light on a platform and take food from my hand. It was the third summer before it actually landed on my arm."
Mistress nodded. "Talk with Yahweh, Ishma. A bond will form, and He'll become familiar, Someone you can trust."
I hope Zibah, Aya, and their little doves have encouraged you today!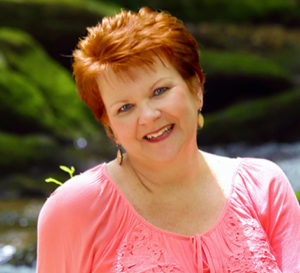 Biblical fiction is Mesu Andrews' favorite genre to read and to write.
Her deep understanding of and love for God's Word brings the biblical world alive for her readers.
She and her husband, Roy, live in a log cabin snuggled into the beautiful Appalachian Mountains with their dog, Zeke.
HERE'S THE STOP #26 SKINNY:

You can order Mesu's book on Amazon, Barnes & Noble, CBD, Lifeway, or at your local bookstore!

Clue to Write Down:

you

Link to Stop #27, the Next Stop on the Loop: Mesu Andrews's own site!
But hang on y'all!
Before you head over to Mesu's site, I'm giving away a prize pack that includes all 3 of my books (Beneath the Surface, Hidden Legacy, and Covert Justice), some Dive Team Investigations goodies and a Starbucks gift card! All you have to do is sign up for my newsletter or note that you already subscribe. You can grab extra entries if you follow me on Twitter or Instagram, or if you like my Facebook Author page or subscribe to my blog. (This giveaway is open to residents of the US only).
Click on the Rafflecopter form below to get started! All the links you need are in the contest entry form! Good luck!