Jul. 1st, 2022
Exclusive Content for Newsletter Subscribers Coming in July
Hey y'all!
Happy July! It's hot here in the South and we're spending a lot of time inside just waiting for Fall when we can bear to be outside again!
Sorry that it's been a while since I shared anything here. I have a dream of posting on the blog more regularly, but until that happens, the very best place to stay in touch is through my newsletter.
Now, don't get me wrong. There's plenty happening on social media. I post regularly to FB, Instagram, and Twitter (look for me @LynnHBlackburn). I have Pinterest pages for all my books (did you know that?) 😉 and I even have playlists on Spotify for some of my favorite fictional couples.
But, as I'm sure you know, social media can be…finicky. How many times have you seen a post and then tried to find it later, only for it to be gone from your feed? The reality for authors is that in many cases, we're sharing all kinds of cool info on the socials, but not everyone is seeing our posts.
This is where my newsletter comes in. You might not be on social media, or you might be on there, but rarely see anything I share. But if you subscribe to my newsletter, every 4-8 weeks you'll see an email from me and you'll be up-to-date on all the bookish happenings in my world.
Now, I realize that not everyone wants to sign up for newsletters, not everyone reads newsletters, and not everyone thinks they are a great idea. Fair enough.
But I try to make mine have some real value for my readers, and I don't flood your inbox with tons of messages that you're just going to delete.
To sweeten things up, I shamelessly offer exclusive content to my newsletter subscribers as an incentive. 
Right now, my newsletter subscribers have access to the following goodies:
A deleted scene from Covert Justice.
A recipe booklet filled with tasty treats from the Dive Team Investigations series.
A flash fiction story that ties in best with Beneath the Surface.
A short scene, First Kiss, that sheds light on Gabe and Anissa's rocky relationship (some people like reading it immediately, but I think it's best read after you finish One Final Breath).
An ENTIRE novella (and honestly, it's kind of long for a novella, but I tend to be wordy, so…) Unseen Enemy, that ties the Dive Team Investigations series to the Defend and Protect series.
And it's time to add some more!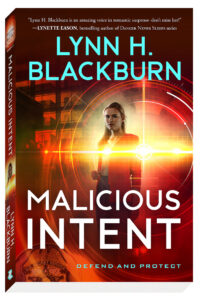 In July I'll be sharing the letters written from Gil to Ivy, and Ivy to Gil, that are referenced in Malicious Intent. I had an absolute blast writing these. We actually considered dropping them into the book itself, but we never could figure out how to do it without breaking up the flow of the story too much. And it would have made the book way too long. But I'm excited to share them with you now!
Of course, they are only going to go out to newsletter subscribers, so if you aren't already signed up, now's the time!
Happy Summer!
Grace and peace,