Feb. 26th, 2022
Malicious Intent – Beyond the Book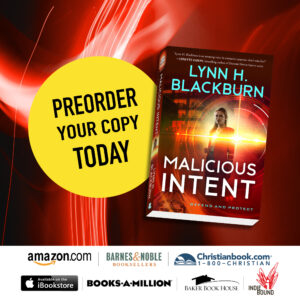 Malicious Intent, Book 2 in the Defend and Protect series, releases March 1! ❤️‍🔥🎉
I cannot wait for everyone to read Gil and Ivy's story of forgiveness, reconciliation, romance, and survival in the face of vengeful villains willing to torture, maim, kill, and destroy everything Gil and Ivy have worked hard to achieve. 
I'm also thrilled to announce that Malicious Intent is the March selection for the Beyond the Book Online Book Club. This virtual book club meets in a public Facebook group so you can follow along if you prefer to lurk, or join if you'd like to participate. 📚
I ❤️love❤️ talking to readers about books in general, but when those readers have fallen in love with my characters and start asking deep questions? #swoon🤩 It makes my fragile author heart go wild! 🥰❤️‍🔥😍
Malicious Intent is available for preorder everywhere books are sold, and will be available for purchase on Tuesday, March 1. 
I'll be live on my author page on Facebook, Tuesday, March 1 at 8:30 p.m. (Eastern) to chat about Malicious Intent, answer questions, and give away some prizes. 🙂 I hope you'll join me! 
Want more info about Malicious Intent? Read on:
Perfectly balancing chilling suspense and uplifting romance, award-winning author Lynn H. Blackburn introduced readers to her Defend and Protect series in 2021 with Unknown Threat. Now, Blackburn delivers a story of revenge, greed, and sacrifice in her second installment, Malicious Intent. 

Founder and CEO of Hedera, Inc., Dr. Ivy Collins has dedicated her life to developing technology to help amputees like her stepfather, and the results have been lauded by government, medical, and advocacy groups worldwide. Now that she is on the cusp of having her cutting-edge prosthetic technology become a reality, someone is trying to sabotage her success.

When US Secret Service Special Agent Gil Dixon is assigned to investigate an issue involving his childhood best friend, Ivy Collins, he's ecstatic that fate has brought them back together. Gil has always held a torch for her, and he doesn't want to let her slip away again.

When Ivy continues to be targeted for her technology, Gil will have to use everything he has to keep Ivy—and her life's work—safe from harm. Can they figure out who the culprit is before innocent lives are caught in the crossfire? Or will dangerous circumstances demand that Ivy give it all up—to save someone else?