Jul. 5th, 2020
Summer of Suspense – Part 2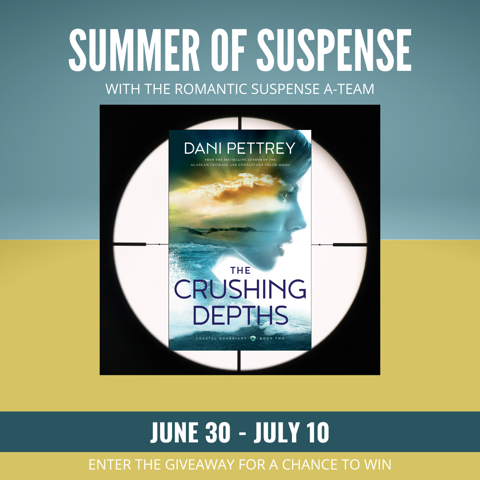 It's time for the second giveaway of the Romantic Suspense A-Team's Summer of Suspense! This time, we're highlighting the newest release from Dani Pettrey. The Crushing Depths is the second book in the Coastal Guardians series. Check out the details below!
When an accident claims the life of an oil-rig worker on the first drilling platform off the North Carolina coast, Coast Guard investigators Rissi Dawson and Mason Rogers are sent to take the case. Tensions surrounding the oil rig are high and the death has everyone on edge. Environmental activists are threatening to do whatever it takes to stop the structure from being completed, while rumors are being whispered about ancient curses surrounding this part of the ocean.

 

Mounting evidence shows the death may not have been an accident at all. Was he killed by one of the activists or, perhaps more frighteningly, a member of his own crew? Rissi and Mason have to sort through not only a plethora of suspects, but also their own past and attraction to each other. 

Just as the case seems like it'll break open, worse news arrives. A tropical storm has turned their way and soon they're cut off from any rescue–and right where the killer wants them. It's a race to discover his identity before he eliminates the threat they pose.
To celebrate the release, Dani is giving away an e-copy of The Crushing Depths and some ocean inspired candles. You can also be entered to win three e-books from Janice Cantore, an Amazon gift card from Lynette Eason, and an e-book of DiAnn Mill's latest, Airborne.
Grace and peace,