Feb. 23rd, 2018
Christian Fiction Scavenger Hunt Coming Soon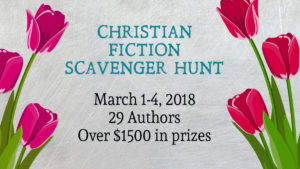 I am thrilled to tell you that I will be one of 29 authors participating in the Spring Christian Fiction Scavenger Hunt next weekend!
The event runs March 1-4 and it's going to be amazing!
DETAILS:
It begins and ends at Lisa T. Bergren's website, March 1 at noon MST, and ends March 4 at midnight, MST. (Look for Stop #1 after noon MST on March 1).
All you have to do is sit back, read, collect/write down the clues, enter for extra prizes along the way, and then enter for the big prizes at the end.
It is open to international (outside the USA) readers.
CONTEST-WIDE PRIZES INCLUDE:
Grand Prize: All 29 books plus $250 Amazon Gift Card
2nd Prize: All 29 books plus $75 Amazon Gift Card
3rd Prize: All 29 books plus $50 Amazon Gift Card
4th Prize: $50 Amazon Gift Card
5th Prize: $25 Amazon Gift Card
If a winner outside of the USA is randomly chosen, then the gift card will be the equivalent value in funds in your country.
You don't want to miss the Spring Christian Fiction Scavenger Hunt! March 1-4, 2018. 29 Authors offering over $1500 in books & prizes!
Click To Tweet
I will be doing a giveaway here on my site in addition to the contest-wide prizes. People who sign up to receive my newsletter will be entered into a drawing for a copy of my new release, Beneath the Surface, as well as copies of my previous two books, Covert Justice and Hidden Legacy. I may even add some #DiveTeamInvestigations goodies to sweeten the deal.
I'd love for one of my readers to win the Grand Prize!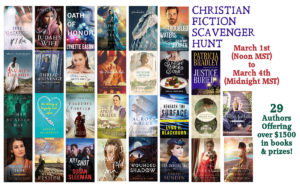 Grace and peace,