Nov. 6th, 2019
Christian Fiction Scavenger Hunt Stop #21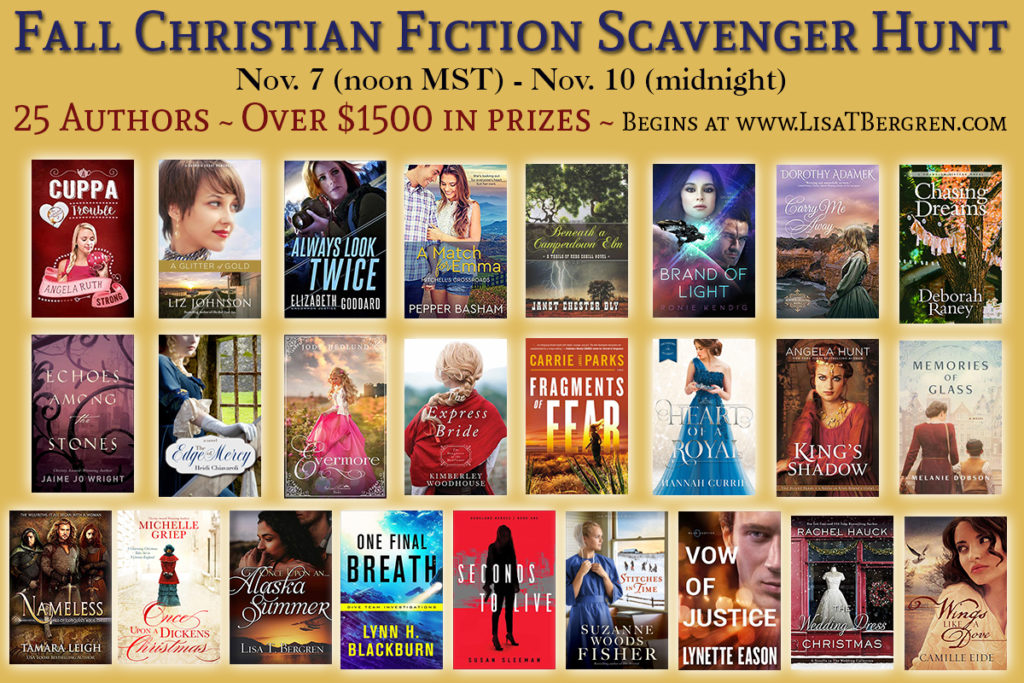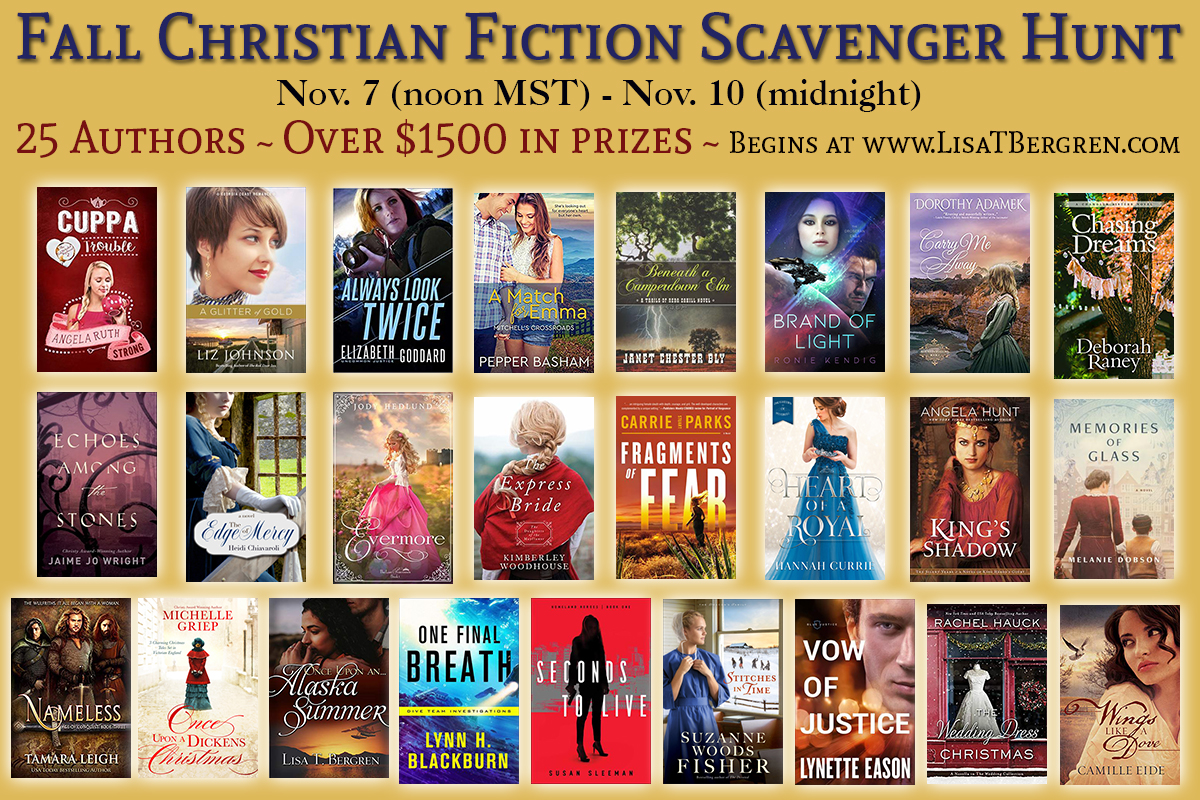 Welcome to the Fall Christian Fiction Scavenger Hunt!
If you've just discovered the hunt, be sure to start at Stop #1, and collect the clues through all the stops, in order, so you can enter to win one of our top 5 grand prizes!
The hunt BEGINS on 11/7 at noon MST with Stop #1 at LisaTawnBergren.com.
Hunt through our loop using Chrome or Firefox as your browser (not Explorer).
There is NO RUSH to complete the hunt—you have all weekend (until Sunday, 11/10 at midnight MST)! So take your time, reading the unique posts along the way; our hope is that you discover new authors/new books and learn new things about them.
Submit your entry for the grand prizes by collecting the CLUE on each author's scavenger hunt post and submitting your answer in the Rafflecopter form at the final stop, back on Lisa's site. Many authors are offering additional prizes along the way!
---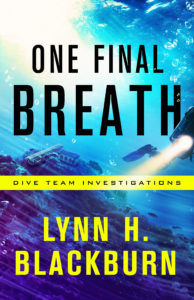 Hi! My name is Lynn H. Blackburn and I write romantic suspense with a southern accent.
You can learn more about me and all my books here on my site and on Facebook, Twitter, and Instagram.
The best way to stay up to date is by subscribing to my newsletter or hanging out over at my Facebook reader group, The Deep Divers. My most recent novel is One Final Breath, the third and final (sniff!) book in the Dive Team Investigations series. Here's what it's about: 
When investigator Gabriel Chavez had his cover blown by an aggressive reporter, the silver lining was being able to rejoin the dive team. The downside? Dive Team Captain Anissa Bell—a woman who both fascinates and frustrates him.
Anissa grew up a missionary kid on an Indonesian island and always planned to return after college. But she remained stateside, determined to solve the case that haunts her—the murder of her best friend and the disappearance of a three-year-old child.
When Anissa's fractured past collides with Gabe's investigation into the tragic shooting death of a teenage boy in Lake Porter, they'll have to put their complicated history with each other aside in order to uncover the identity of a killer. What they'll discover is that revenge has no statute of limitations.
I'm a Carolina girl and I set the Dive Team Investigations series in the fictional city of Carrington, North Carolina.
WHY I CHOSE A FICTIONAL SETTING
Carrington, North Carolina isn't real, y'all, but I wish it was! 
One of the reasons I chose a fictional setting for my Dive Team Investigations series was that the city in my mind doesn't exist! But that's what makes fictional settings so fantastic. They can be whatever you need them to be. I set Carrington in central North Carolina, roughly in the area between Chatham and Randolph counties. In my mind, I simply squeezed those counties to the sides and put Carrington County and the all-so-important to the story Lake Porter right there in the middle.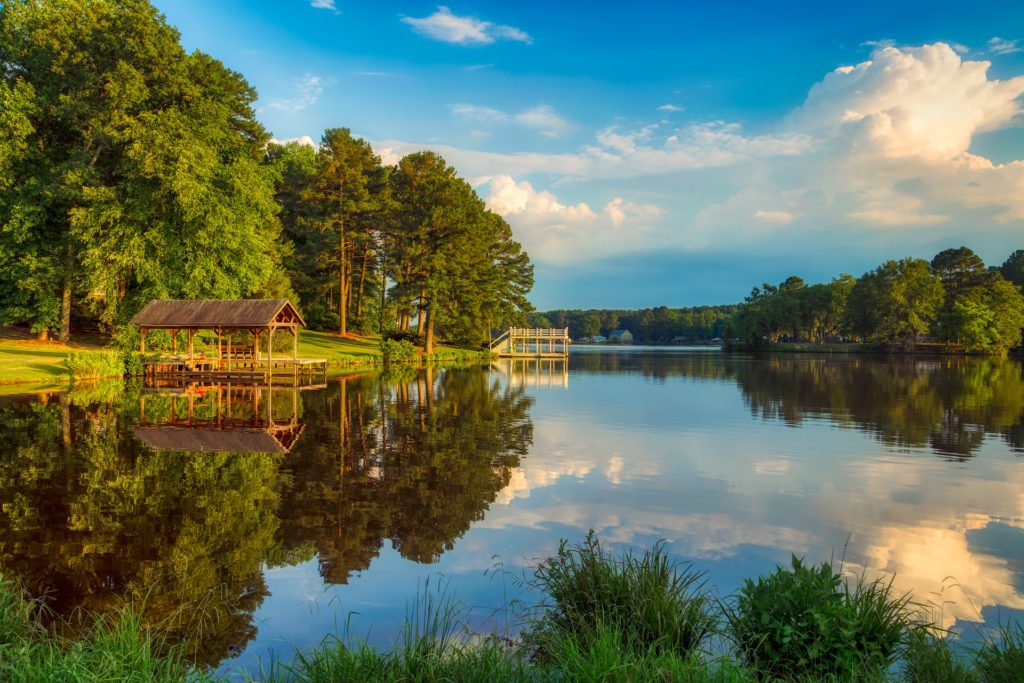 The fictional Lake Porter is modeled off several major lakes in that area of North Carolina including Badin and Jordan, but also three of the lakes of the Upstate of South Carolina—Keowee, Hartwell, and Jocassee. I learned to scuba dive in Keowee and Jocassee and definitely had those lakes in mind when I pictured the diving scenes. Jocassee has multiple dive sites and I can envision the team teaching Dr. Sabrina Fleming (from In Too Deep) to dive there. And the point where Leigh lives in Beneath the Surface—and where the opening scene of One Final Breath occurs—is a version of a real area on Lake Keowee. 
If you want to see some of the images I used to inspire the story scenes, I have Pinterest boards for all three books and I'd love for you to visit me there!
Here's the Stop #21 Skinny:

If you're interested, you can order One Final Breath on Amazon, Barnes & Noble, ChristianBook.com or at your local bookstore! 

Clue to Write Down: adjectives

Link to Stop #22, the Next Stop on the Loop: Deborah Raney's site! 
But don't go just yet!
I'm offering any one of my Dive Team Investigations series books to three entrants.
All you have to do is sign up to get my e-newsletter (top right of my home page) or note that you're already a subscriber. Additional points to those who join my reader group, The Deep Divers and to those who follow me as an author (@LynnHBlackburn) on Goodreads, Instagram, BookBub, Facebook, Pinterest, and Twitter! (USA only)
Grace and peace,