May. 30th, 2021
Just a few things I love…May 2021
My back deck:
I got a wild hair Mother's Day weekend and replaced our back deck furniture. It's now my favorite place to start my morning. The colors make me happy. The table is a great spot to spread out a Bible study or pound out a few words. The rocking chairs are perfect for claiming a few moments of peacefulness when the inside of the house is in full-blown morning chaos. 
Worship playlist:
I'm a big fan of Spotify and have a lot of playlists saved there. But lately I'm really enjoying the Sunday Setlist – a playlist put together by our church that includes most of the songs from our Sunday morning worship. And when there's a particular favorite on there, or a new song that really spoke to me, I can easily add it to my personal playlists. 
Okay, this will probably only be interesting to you if you can't have dairy, but I am shocked by how much I love this coffee creamer. I don't eat coconut, and I'm not a huge fan of coconut cream … as in, I pretty much only like it in curry or spicy dishes where there are lots of strong flavors to mask it. But I love this creamer. It's a blend of almond milk and coconut cream and it has that lovely "mouth feel" that comes from real cream but is entirely absent in abominations such as "fat-free half and half" that are so thin they make coffee cry. LOL! I love that it is super low in calories so I'm not blowing my WW points first thing every morning! Because I need my coffee, and I need a lot of it! 
Watering flowers:
I have a black thumb. Really. My ability to kill plants is … disturbing. But that doesn't stop me from trying. Over the last few weeks I have enjoyed the simple practice of walking around the house and watering the flowers I've put on the front porch, the side porch, and the back deck. I'm not sure why, other than that it is simple and the flowers haven't died yet (probably because … wait for it … I'm remembering to water them). I'm never going to be a gardener – I don't enjoy it that much! But a few pots that bring some color and life to random spots around the house? I think I can manage that. Maybe. 🙂 At least I'm trying. 
Novella collections:
My love of long books is well-established. I like to fall into an epic and hang out for a while with the characters in a story. But recently, I've stumbled into novella collections, and I've enjoyed them immensely. I usually find them because one of the authors in the collection is someone I already read, but then I read the others just to see if they interest me. And they usually do. When I'm crazy busy and can't risk the commitment required from a long book (or, let's be honest here, the way I'll ignore my other responsibilities until I finish the story), a short novella hits the spot!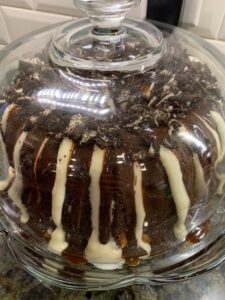 Bundt cakes:
I've made a lot of these lately. In Unknown Threat, Marty (the office manager) makes a chocolate bundt cake for Special Agent Luke Powell, so of course I had to make a few different varieties. For research. Yeah. That's it. Research purposes. 😉 I made this Oreo Cheesecake version recently and it was a huge hit. If you want to find some other flavors, there are several saved on my Defend and Protect Series pages on Pinterest. 
I'd love for you to share a few things you're loving in the comments!
Grace and peace,