Aug. 9th, 2022
National Book Lovers Day
August 9th is a big day in the Blackburn household.
It's our wedding anniversary. 🥰😍😘
It's also National Book Lovers Day. 📚🥰📚
The best way to celebrate National Book Lovers Day is by sharing some book love!
As a reader, you already know you can do this by supporting your favorite authors. But today I'm going to give you an opportunity to support an aspiring author. 
Deborah Clack is a dear friend of mine. Her writing is phenomenal, and I'm just waiting for the day when she signs her first contract.
While we're waiting for that fabulous day, she has a free novella that you can read on your computer, or on an e-reader. I read it a while back and it is hilarious, heart-warming, swoony, and sweet. There's a fireman. There's a middle school teacher. There's mystery and mayhem. I loved it!
Here's the link. When you "click here" you'll provide your email address and subscribe to her quarterly newsletter. And then you'll receive your free novella, False Alarm.
Here are the details about False Alarm: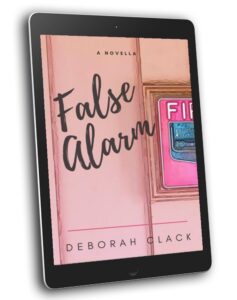 After years of night school, Avery Lewis finally earns an interview for her dream job. If she can secure the seventh-grade English teacher position, she can finally redeem the false accusations of her past. But first she must survive a mortifying fire alarm incident at her gym.
Fire inspector Noah Jackson needs one professional win for his boss to endorse his arson investigator application. He doesn't know the name of the beautiful wet mess he helped from the gym. But when he runs into her a second time, he won't make that mistake again.
Sparks fly, but when these two clash over a situation at Avery's school, both of their jobs are at stake. With a student's future in the balance and pressure mounting on all sides, Avery and Noah won't make it out unsinged.
***
I hope you'll snag False Alarm – and then let me know how much you enjoyed it!
Grace and peace,