Jul. 23rd, 2021
Sweet Summer Romance Giveaway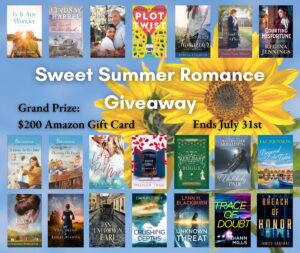 Just popping in here to let you know about this fantastic opportunity to win a $200 Amazon card and copies of fabulous novels – perfect for summer reading!
Summer reading is my FAVORITE reading.
I was one of those kids who loved school, but I also loved summers because it meant I could pretty much read all day. Which I did!
As an adult, I love summer reading because when it's just too hot to do anything else, it makes perfect sense to drop everything and read in the middle of the day. At least, that's the way I roll in July. 🙂
How amazing would it be for one of my readers to take home the grand prize in this awesome giveaway?! Think of the books you could read! 🙂
Click here to be taken to the rafflecopter form and be sure to let me know if you win!
Grace and peace,