Apr. 15th, 2019
One Final Breath – Final Edits
Hey y'all!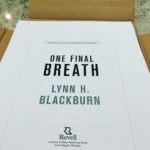 I shared this photo on my FB author page and Instagram earlier today and I'm thrilled with how excited y'all are about One Final Breath!
I also did a video (how goofy do I look in this thumbnail?!) with a little bit of  "behind the scenes" information and a few questions for my readers.
I'd love for you to check it out and give me your thoughts!

One Final Breath releases September 3, 2019, and is available for pre-order at your favorite bookseller!
Grace and peace,